[vc_row][vc_column][vc_column_text]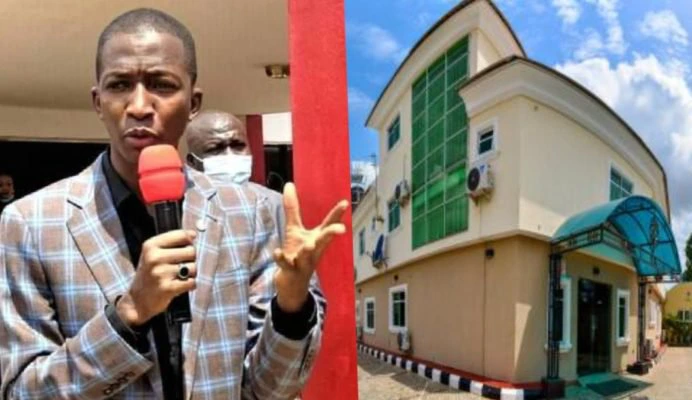 Peoples Gazette
The Economic and Financial Crimes Commission conducted a series of raids of suspected Internet fraudsters around Abeokuta on Monday, opening fire on hotel guests and groping women in the genitals, victims and witnesses have informed Peoples Gazette. Click here to read more articles>>>>>>
Witnesses said the armed EFCC operatives entered Abeokuta at about 4:00 a.m. on September 13 in Toyota Hilux buses and made their way to at least three hotels and two nightclubs, including Dakdat Hotel, Cecilia Suites, and government-run Mitros Residences.
Adesba Night Club and Royal Mandarin Club were also said to have been attacked by the armed operatives who were pursuing suspected Yahoo Boys around the city. At least one suspect was hospitalised after being hit by bullets as he was trying to escape. Another suspect broke an arm after jumping through a fence more than 15 metres tall. Click here to read more articles here>>>>>>
"My cousin was shot because he tried to escape from the hotel and we quickly drove him to a hospital where he was briefly treated before we moved him to Ilaro for full recovery," a witness said under anonymity because he could be victimised as he bears the same last name with his wounded cousin who had checked into one of the hotels with his driver's licence. "It was really bad because they operated like armed robbers and they were very fast with their activities."
Another witness told The Gazette that electricity was disconnected before one of the hotels was raided and officers did not knock before pulling down doors, breaking into rooms and violating the privacy of both men and women. Click here to read more articles>>>>>>
"They threw everybody into darkness before raiding our hotel," a woman told The Gazette. "One of them with afro collected seized my iPhone and used the torchlight to check my vagina before dipping in one of his fingers."
"I couldn't say anything because I knew that my fiance is a Yahoo Boy and I have been warning him to stop but he didn't listen to me and we are getting married soon," she said, adding further to The Gazette she won't be pressing charges because it might complicate the case of her boyfriend who had already been taken into custody.
The Gazette learnt that over 30 cars were seized at Mitros alone, a high number which witnesses linked to an infamous Internet fraud suspect who was celebrating his birthday at the facility. The hotels declined comments for fear of further victimisation by the EFCC. Click here to read more articles>>>>>
[/vc_column_text][/vc_column][/vc_row]
Do you find Mjblog useful? Click here to give us five stars rating!