[vc_row][vc_column][vc_column_text]
Aliyu Sheidu, a victim of police brutality has called on Nigerians to save him.
Sheidu, who was shot in the leg during last year's #EndSARS protest, has described the pain as unbearable as a bullet is still lodged in his leg one year after the incident.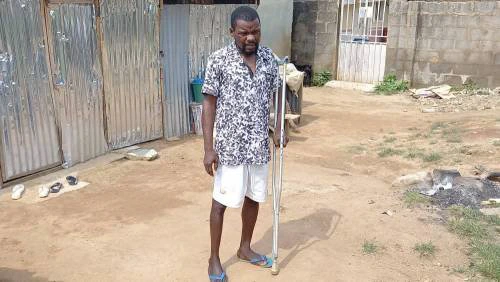 Sheidu, a fashion designer was shot at Dutse in the Bwari Area Council of the Federal Capital Territory (FCT), Abuja on October 20, 2020, when police opened fire on young Nigerians who were protesting against police brutality in the country.
Following the assault, five protesters were killed by gun-wielding anti-riot policemen in the area, leading to the burning of Sokale Police Post and several vehicles.
Meanwhile, Sheidu has had to rely on crutches since after the first operation on his bad leg, which involved bone setting and implantation of iron in his leg.
According to him, he was on his way to work when he was shot in the right thigh from behind.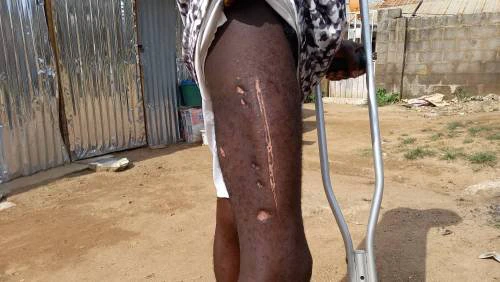 He said it happened as policemen opened fire on peaceful protesters.
Sheidu was rushed to Bwari General hospital from where he was transferred to a private hospital, Camek Orthopaedic in Kado.
A medical report signed by the Medical Director, Dr. Charles Anakwe which was obtained by SaharaReporters revealed that Sheidu had "fracture of the shaft, of the right femur and pellets, were visible confirming gunshot injury".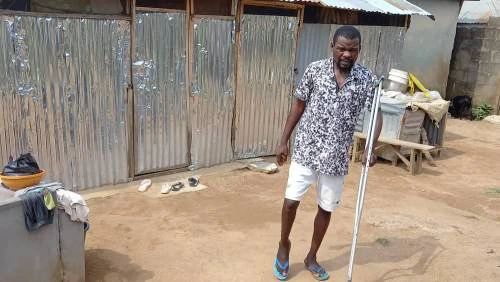 The report read in part, "Mr. Sheidu Aliyu was brought to this hospital as an emergency on 21st October 2020. He was on his way to his tailoring workshop when he was shot in the right thigh from behind same. He was initially taken to Bwari General Hospital from where he was transferred to this hospital.
"On examination, he had a deep wound 2cm by 3cm on the posterior aspect of the right thigh that was not bleeding actively.
"Dorsalis pediatric pulse was palpable but there was a loss of ankle dorsiflexion. X-ray revealed communicated fracture of the shaft of the right femur. Pellets were visible in the X-rays confirming gunshot."
SaharaReporters gathered that the first operation was carried out on October 23, 2020, and he was discharged on October 30, 2020, to continue as an outpatient.
He was later scheduled for the second operation on October 2021 for removal of the bullet but Sheidu has not been able to raise the sum of N450,000 given to him as the bill for the operation.
Sheidu lamented his permanent deformity and inability to fend for his family since he could no longer work.
He added that his dreams have been cut short and shattered as the breadwinner of the family, thereby leaving him and his family in penury.
He said, "I was going to work on that day. I am a fashion designer. It was a terrible day for me. I cannot even imagine what happened to me that day. It was only God that saved my life.
"Police were shooting indiscriminately at the protesters at Dutse and the next thing was that I discovered that my leg became curved and blood was coming out.
"I am suffering, Nigeria police have ruined my life. The bullet is still inside my leg and I cannot raise N450,000 for the operation. I feel the pain all over my legs. I need help, I want Nigerians to help me so that the doctor can remove the bullet in my leg."
Speaking on Sheidu's condition, the Executive Director of 'Know your Right, Stand up for Rights', Gerald Katchy described protests as a constitutional right, saying engaging in protests should not be criminalised.
"Protest is not a place you go with live ammunition, the least you can do is to go with tear-gas canisters.
"We have had cases of people who have been shot during protest. Sheidu was shot the same day those in Lekki were shot.
"We call on well-meaning Nigerians to support him and we know that no amount of money can bring back his leg," Katchy added.

[/vc_column_text][/vc_column][/vc_row]
Do you find Mjblog useful? Click here to give us five stars rating!