A young female trader was allegedly raped and killed by male customer in Makurdi, Benue State.
An online vendor, Joy Onuh Ogochukwu has allegedly been raped to death while delivering clothes to a male customer in Benue State.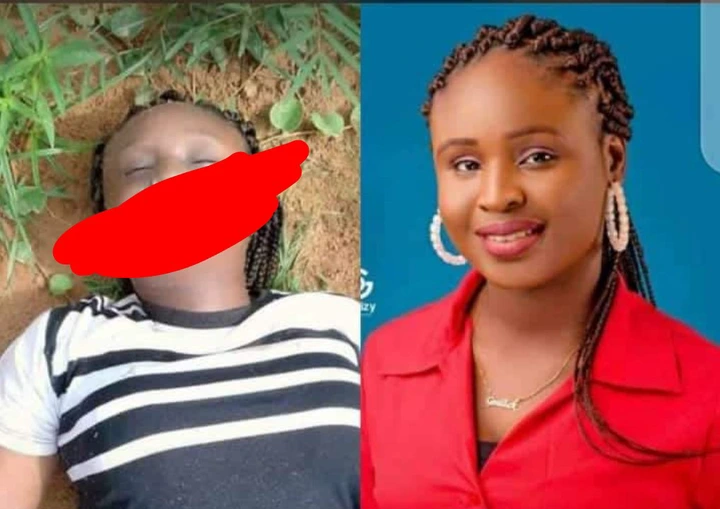 Joy Ogochukwu, who is a graduate of the Department of Mass Communication from Benue State University, Makurdi, was killed on Tuesday night.
According to reports, the young lady received a strange call from a customer and went out to deliver clothes to the caller on Tuesday night, only for her dead body to be discovered on Wednesday morning.
A brother of the deceased, Kidee Po Sh, who confirmed the incident on Facebook, said Joy was raped, murdered and her body dumped at a roadside at Northbank along Federal housing, Makurdi, Benue state.
Kidee Po Sh wrote: "#Justice for joy….I can't still believe she's gone. She's a young promising lady. She's into a business which she started new. She sells clothes and foot wears which she normally post online and gets an order to dropshipping. She supplies round makurdi town.
"On the 10/19/2021. She got a customer at North bank who placed an order of 2 turtle neck….Which she went to deliver. She never returned home we were all worried in search for her. Only to get the news of her murder at northbank along Federal housing makurdi Benue state…
#justice for her I can't still believe u are gone big sis."
A source said, "She's just a hustler What's her crime for being a legit hustler? She only went out yesterday evening (Tuesday night) to deliver clothes to some ruthless men and was raped and killed at the north bank,"
Another source said that the victim was supposed to go to NYSC camp today (Wednesday) before she was raped to death.
"She was supposed to go to (NYSC) camp today (Wednesday). So, she received a call to deliver some things (clothes) that's how she didn't return home again. She was raped and killed," says the source who claimed to be her coursemate.
Friends have taken to various social media platforms to mourn her.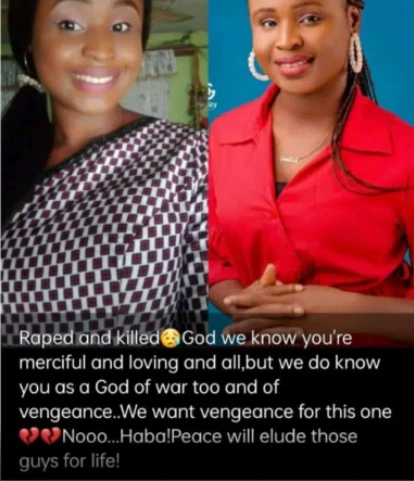 KnyiDaily had also reported how a 16-year-old girl, Comfort Benjamin was allegedly raped and strangled to death on her birthday after she was declared missing in Jos. CLICK HERE TO COMMENT
Do you find Mjblog useful? Click here to give us five stars rating!