One of the challenging periods for every woman is that of motherhood, most especially in the first few months after delivery, due to the level of restlessness a mother experience as a result of the undivided attention she has to give to the new born infant whenever the baby needs her attention. It could be twice challenging if the married lady does not have a supportive husband or friends and relatives who will be there to give her a supporting hand. It is not strange to see some nursing mothers fall into Postpartum Depression (depression that happens after giving birth to a baby). Nonetheless, in spite of the stress associated with nursing a new baby, the human nature will always want to have dominance in the life of the woman. It won't stop her from having urge for lovemaking. Sadly though, not all women experience pleasure while trying to have carnal knowledge of their husbands – some experience pains, which may make lovemaking scary for them.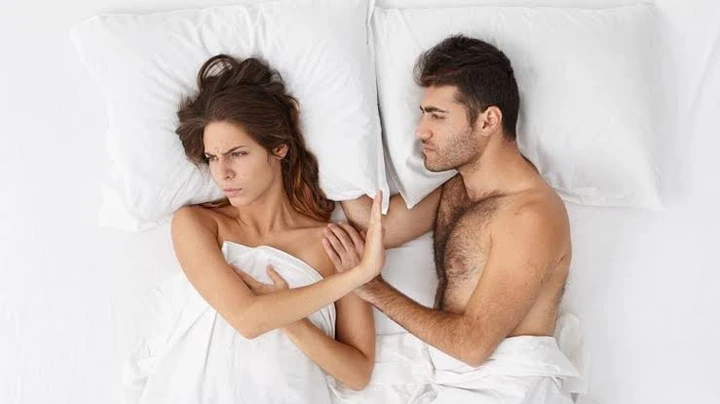 Photo source || Google image
Why do some nursing mothers feel pains when their husbands are making love to them instead of pleasure?
Needless to say, there is no smoke without fire. There are some underlying reasons why some nursing mothers feel pains. Among others, below are some of the reasons:
1. Dryness in their private part. According to a medical report, after delivery, some ladies experience dryness due to the low level of estrogen ( a hormone that plays various roles in the body which assists females to develop and maintain both the reproductive system and some features that are peculiar to women) that is circulated during the period of breastfeeding a baby.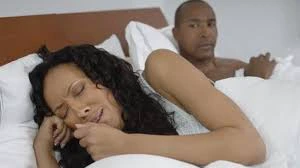 Photo source || Google image
2. Breastfeeding. Naturally, medical experts believe that, breastfeeding affects secretion of oil that lubricates the private part of a lady the first few months of postpartum (after giving birth) which makes pains to be obvious during lovemaking.
3. A tear during delivery. If during delivery, a lady had some cut in her private part to enlarge it for easy childbirth, she can also feel pains when making out with her husband, because at that time, the wound is yet to fully heal.
How to manage the pain.
I. Taking a warm bath. This can help to fasten the healing of the torn part.
II. For the man, he should be careful when making love to you by not going too deep in the process. In addition, he can also change different lovemaking positions.
III. Taking of pain medication as recommended by a certified and skilled doctor.
IV. Making use of lubricants before lovemaking.
Having known the aforementioned, as a nursing mom, you don't have to panic when you experience pains during lovemaking, because it may be related to any of the above causes. CLICK HERE TO COMMENT 
If you find this content useful and informative, share it with your female friends and loved ones to also gain from it.
Source || medicalnewstoday
Do you find Mjblog useful? Click here to give us five stars rating!