My Son Tore His Clothes in Public before that Day; Father of expelled UNILORIN Student who Beat His Lecturer WATCH VIDEO
PAY ATTENTION: Click here to join Mjblogtv WhatsAppTV Groups to get the latest gist
Anuoluwa Salaudeen, father of the expelled UNILORIN student who beat up his lecturer has shared some strange behaviours his son showed before that fateful day
According to the Lagos-based mechanic, his son had woken up, rushed downstairs and tore his clothes in public
Waliyullah was rescued by students present who chased him around and brought him back to their room
The father of the expelled UNILORIN student, Anuoluwa Salaudeen, who beat his female lecturer into a coma has stated that his son behaved strangely before that fateful Thursday he attacked the academic.
Waliyullah Salaudeen had gone viral after an emerging video on social media captured the aftermath of him beating his lecturer on Thursday, November 11.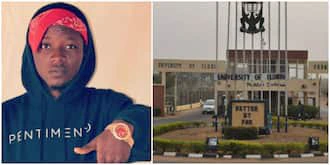 He tore his clothes in public
Waliyullah's father in an interview with BBC Yoruba narrated that his son had torn his clothes in public.
In his narration of the strange event, the Lagos-based mechanic said the expelled student stayed with his 200-level younger brother Farouk in one of the hostels off the university campus.
Waliyullah had suddenly woken up by 6pm on Wednesday (a day before the incident),  CLICK HERE TO READ FULL STORY AND WATCH VIDEO… DO NOT MISS!!! ?