Over the past few days, a particular trend called 'Alcohol challenge' has gotten a lot of engagements on social media. The challenge started on Tik tok with people pouring different kinds of substances on their body.
The challenge emanated from a particular verse off Joeboy's new track. The verse that prompted the challenge is 'That's why I sip my alcohol. I don't want to reason bad things no more. I don't want to go back to where I dey before…"
Apparently, the singer sings about sipping alcohol to wind away from stress and disturbance but the line has been misconstrued by many people on social media. People have been pouring all sorts of harmful substances on their body as they vibe to the lyrics.
A particular video of a lady who used a bottle of dettol for her own challenge has caught a lot of people attention. The lady was seen drinking the substance inside the bottle in a bid to participate in the ongoing alcohol challenge.
The lady seen drinking the harmful substance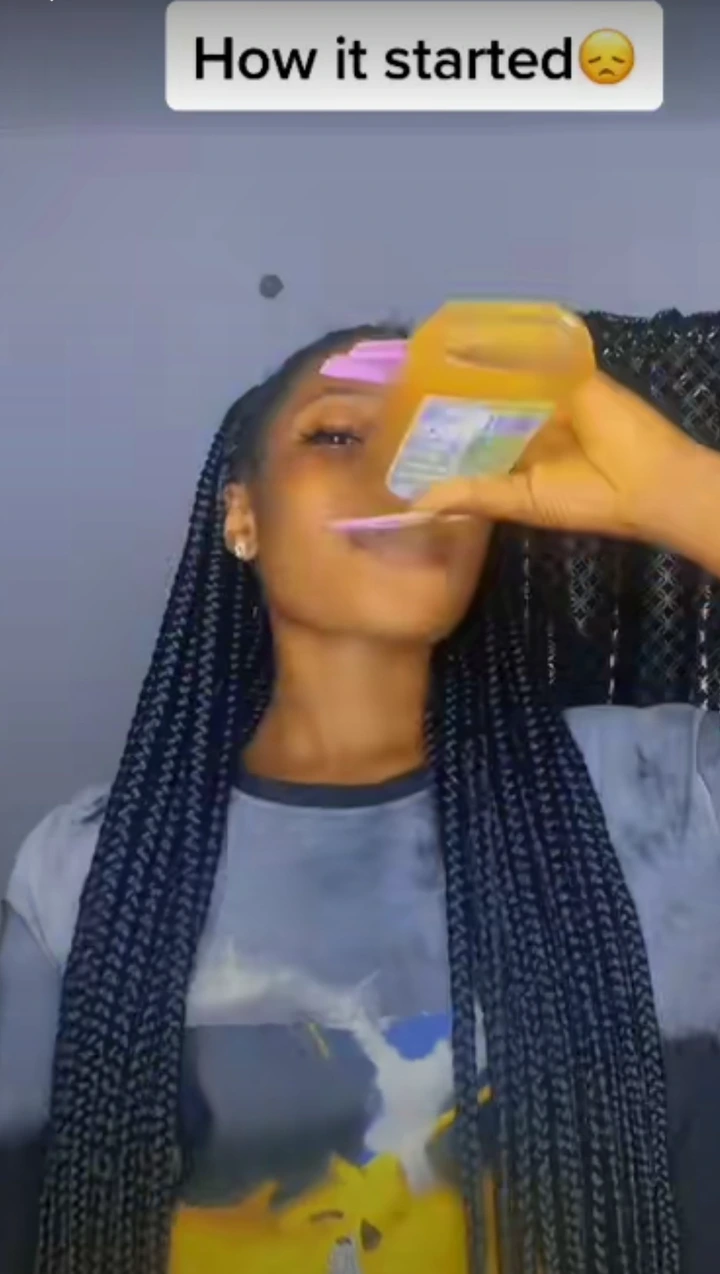 Photo Credit: @symplyciana – TikTok
The video went viral and stirred many reactions on social media. Shortly after the first video came out, another video of the same girl in a very unpleasant state surfaced the internet. In the second video, she lady was seen lying on the floor and foam coming out of her mouth.
The white foam coming out of her mouth got the people around her worried as they screaming and pouring water on her. One of the people helping her could be heard screaming: 'Lucy, Lucy, why would you drink dettol? And I told you not to do it, I'm in trouble…'
The video has been taking turns on different social media platforms with different claims about what happened to the girl after drinking the substance.
Did the lady truly drink the dettol? Here's the truth you should know about
Many people have been wondering if the lady truly drank the harmful substance and whether the foam from her mouth was real. After the video had gone viral on the internet with many people concerned about her health condition, I had to find the lady's official page to know more about what happened in the video.
Photo Credit: @symplyciana – TikTok
I found her official page and while perusing through her page, I found a new video where she clarified what happened in the video. Apparently, she did not drink the dettol. She said she had washed the bottle thoroughly before pouring another drink which she drank in the video.
Speaking about the frothing at her mouth, she said she mixed soap together to get the foam coming out from her mouth. Apparently, she did it for clout but she had given too many false impressions, especially with the foam coming out of her mouth which needed to be corrected.
Do you find Mjblog useful? Click here to give us five stars rating!