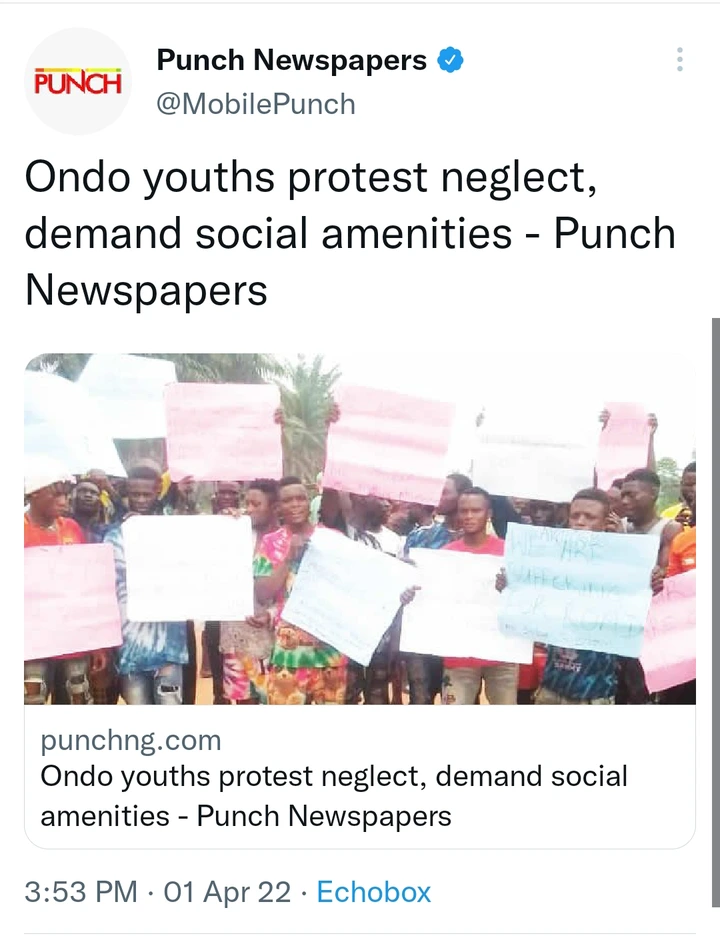 Photo Credit: Punch Newspapers
The youth of Akotogbo in the Irele Local Government Area of Ondo State on Thursday took to the streets to protest against the alleged neglect of the community by the state government.
The protesters vowed to disrupt all political meetings, rallies and campaigns in the community if the government refused to resolve the deficit of social amenities in the town.
The protesters stated that the 12-kilometre Akotogbo-Ajagba Road, which linked the area to other parts of Ondo State, had been cut off for a long time and the government did nothing about it.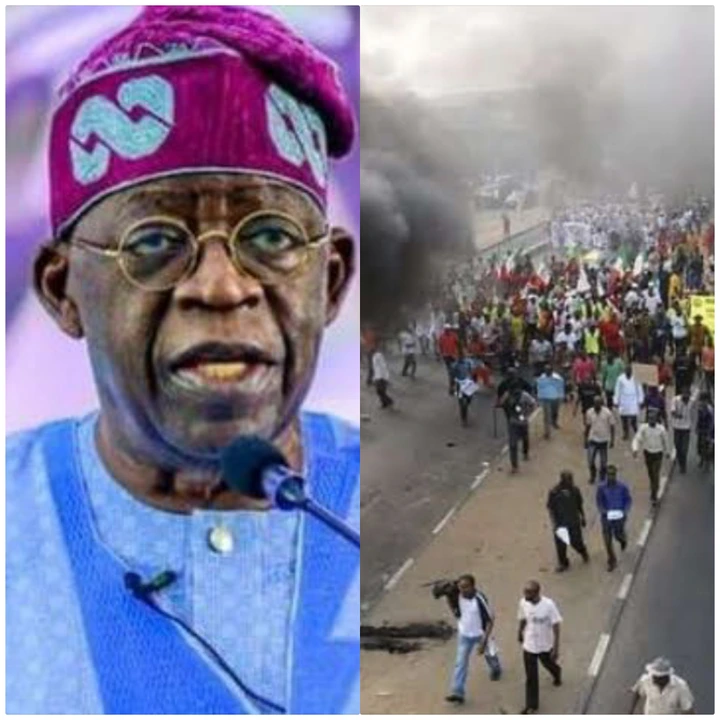 Photo Credit: Google
"Tinubu Is Too Old To Run For President" -Pete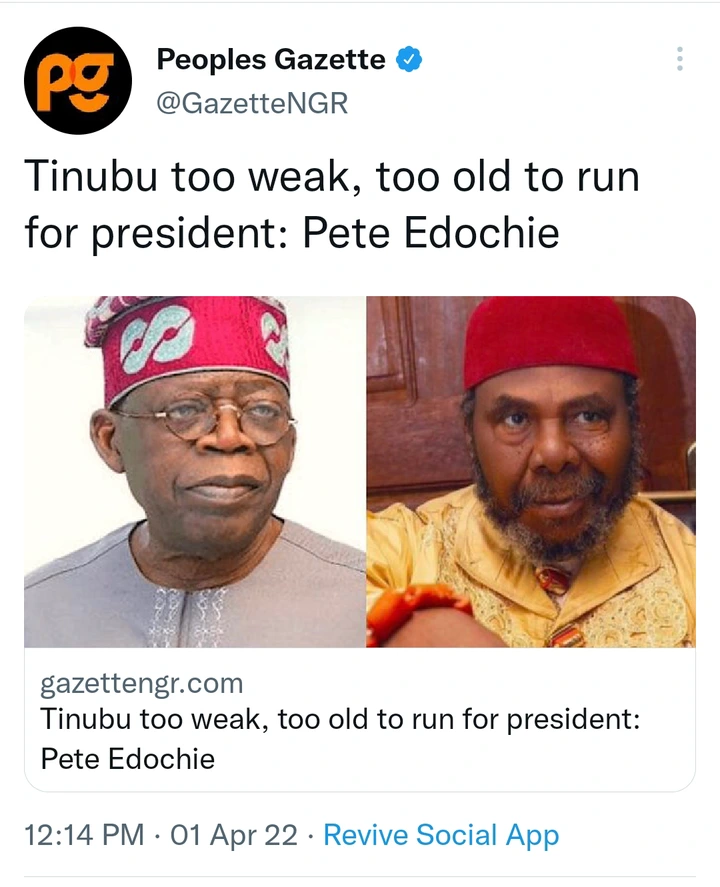 Photo Credit: Peoples Gazette
Bola Tinubu, the APC presidential aspirant, is too old and too weak to run for president in 2023, says Nollywood veteran actor Pete Edochie.
In the interview, the Nollywood star highlighted his concerns about the political marginalisation of Igbos.
"We Have Buhari's Order To Win" -Adamu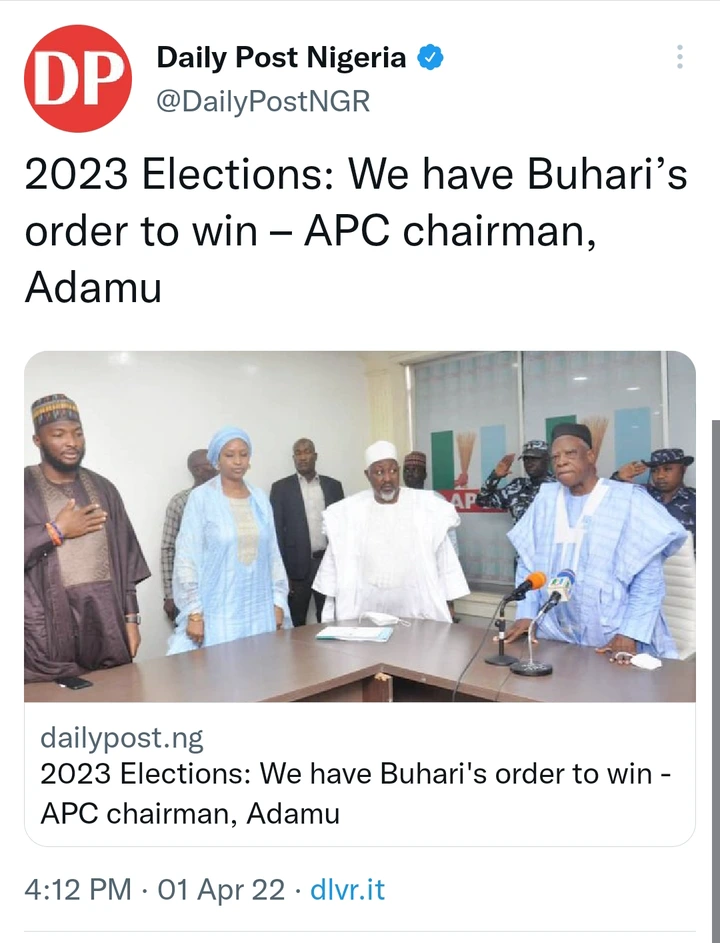 Photo Credit: Daily Post Nigeria
The All Progressives Congress (APC) national chairman, Abdullahi Adamu says the party has received President Muhammadu Buhari's order on the 2023 elections in Nigeria.
The leader spoke on Friday after receiving his certificate of return from the Chairman of the Convention Planning Sub-Committee, Governor Mohammed Badaru.
Adamu noted that the committee conducted its assignments in a "very efficient, honest and equitable manner".
Catholic Assembly Sends Message To Christians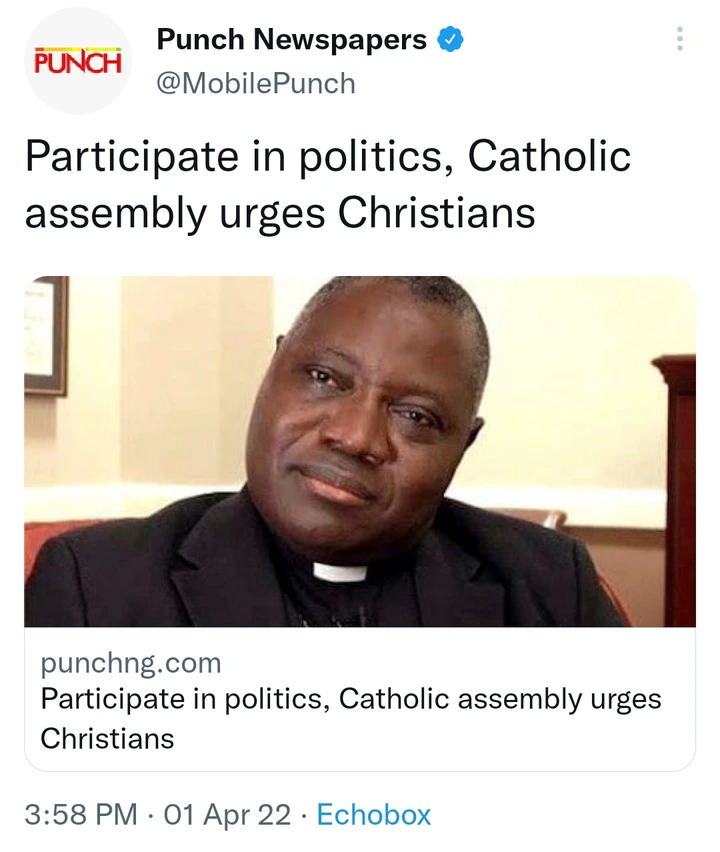 Photo Credit: Punch Newspapers
The General Assembly of the Catholic Diocese of Jalingo on Friday urged Christians faithful in the country to participate actively in politics and help in changing the fortune of the nation.
This is contained in a communique at the end of its 20th General Assembly signed by Most Rev Dr Charles Hammawa the Catholic Bishop and Very Rev Fr Eugene Batare in Jalingo. CLICK HERE TO WATCH VIDEO
Do you find Mjblog useful? Click here to give us five stars rating!